grass-angel.livejournal.com posting in

chromaesthesis
134 ICONS
Air Gear: 09
BLEACH: 41
The Brunettes: 07
Cardcaptor Sakura: 07
Miscellaneous: 03
Pokemon Adventures (manga): 05
Text icons: 27
Tsubasa RESERvoir CHRoNiCLE: 17
xxxHOLiC: 18
PLEASE:
- Comment
- Credit

grass_angel or

grass_angel @

chromaesthesis


DON'T:
- Hotlink
- Claim icons are yours
- Edit icons without asking




1
2
3
4
5
6
7
8
9
10
11
12
13
14
15
16
17
18
19
20
21
22
23
24
25
26
27
28
29
30
31
32
33
34
35
36
37
38
39
40
41
42
43
44
45
46
47
48
49
50
51
52
53
54
55
56
57
58
59
60
61
62
63
64
65
66
67
68
69
70
71
72
73
74
75
76
77
78
79
80
81
82
83
84
85
86
87
88
89
90
91
92
93
94
95
96
97
98
99
100
101
102
103
104
105
106
107
108
109
110
111
112
113
114
115
116
117
118
119
120
121
122
123
124
125
126
127
128
129
130
131
132
133
134




DEDICATIONS
A mix of icons some old, some new, a fair bit that don't make sense at all, a few dedicated and a few requested.


coconutty_tree's request results are 15, 30 and 34.

luffxpress's are 29, 31 and 37.
I apologise profusely to

bearlyhapnin for not fufilling her request in the... year that I had. However 26-28, 38-40 and 45 are honourably mentioned in your name.
18, 79 and 87-88 are, and always have been, for

_debbiechan_

A special dedication goes to

monkeyturtle who inspired so many of the text icons.



HOW TO CREDIT: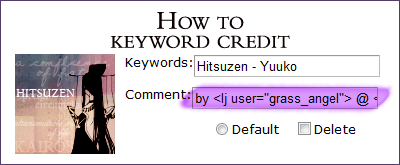 Tutorial
LIKE WHAT YOU SEE?
WATCH US
WANT TO AFFILIATE?
RESOURCES